In Macrame, you tie strings or cords together to make things that are both beautiful and useful. The knots you learn will have a unique appearance and feel to it! There is a lot of time and patience that goes into learning how to do Macrame, just like there is for any other skill. But once you are used to it, you'll be making all kinds of "cool" art. Macrame is a skill that anyone can learn.
DIY Macrame Projects Ideas for Modern Macrame Practitioners
If you're just starting out with macrame, you can check out these simple, fun & beginner friendly macrame projects below.
Macrame Wall Hanging
This Macrame project is the most popular among beginners, with so many different design options for creating your own wall hanging!
Plant holder with T-shirt yarn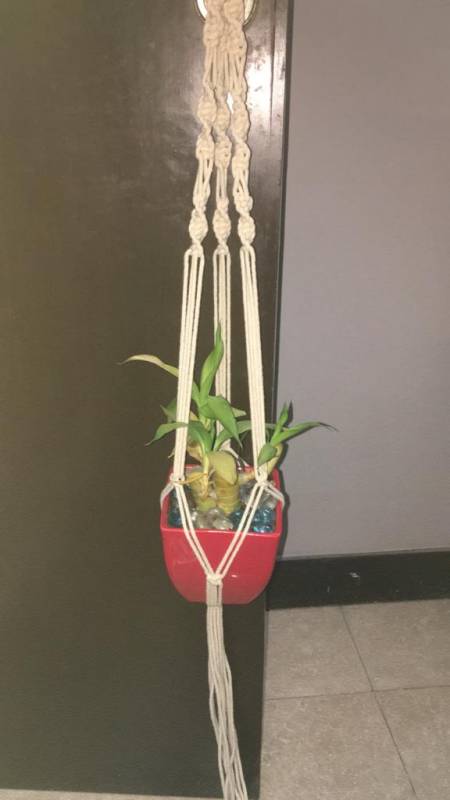 This macrame planter is made out of old t-shirts that have been turned into "yarn." This is a great free project.
Macrame Feathers
These boho feathers are a great beginner macrame project for you and your friends to work on together!
Macrame Key Chains
A great way of practicing Macrame, and you can gift a friend who will treasure it!
T-shirt Fringe Macrame Wall Hanging
This is yet another very cool macrame wall hanging you can make from upcycled t-shirts.
Necklace made of sea glass
Do you have any sea glass in your home? It's a terrific idea to make macrame necklaces out of your beautiful pieces.
Macrame Owls
Macrame owls were a popular project in the 1960s, but you'll prefer the modern designs even more.
Jar Hanger
This macrame project is so simple to make that it can be completed in under 5 minutes! It's a great way to get your first knots down!
Macrame Chandelier and Lampshades
Make your own pretty Macrame chandelier, lampshade, light pendant, and hanging lantern to add more light to your home.
Macrame Fruit Hammock
Make this fun under a cabinet fruit hammock to clear your counters and simultaneously work on your macrame technique!
Macrame bags
Macrame can be used to make various fashionable items such as jewelry and handbags.
Spring Hoop
Easy and adorable, this spring wreath is a must-have for your home decor. Dress it up for any occasion, from Christmas to Independence Day.
Coasters made of Macrame
Make your own pretty Macrame coasters to protect your table from stains.
Macrame Wine Bottle Hanger
The wine bottle hanging is perfect for creating a seaside vibe in your yard. Mix and match different colored bottles for a genuinely one-of-a-kind design.
Produce bag
Reduce your waste by using your new handmade macrame bag at the grocery store!
Wrap a gift in Macrame
What about macrame gift wrapping? Is it something you have ever considered?
Conclusion
You can use macrame to make anything from a fishbowl to a festive decoration with only a few basic knots!
It's also possible to make it more intricate and convert it into a brand-new work of art for your walls. Sandals, headbands, and cameras can all benefit from the boho vibe that it imparts. You can make out of numerous things once you have a good grip on it. Start practicing!