Macrame : Art of Tying Decorative Knots
Macrame is a textile that does not require any needle. Simply by using different knotting techniques, you can create a cascade of patterns, which you can use to create beautiful and artistic wall hangings, plant hangers, and even curtains.
Macrame is a unique art form you can use to create geometric designs and several other patterns perfect for decorative items. The unique knobby texture of macramé products gives them their unique appeal.
Macramé: A Short History
The origin of Macrame can be traced back to the Babylonians and the Assyrians. There has been an indication of macramé style knots found in the costumes of the period. Macrame craft gained importance among the Arab weavers who would use different cords to make the decorative fringes of shawls and veils.
The Chinese sailors also used these techniques of making decorative knots. They would use macramé to keep themselves entertained during their long journeys across the seas. The art of macramé even reached the English Court where the ladies in waiting of Queen Mary II's Court were taught macramé.
How to Get Started with Macrame as crafters?
When you are a beginner, the first thing you should understand about macramé is not getting overwhelmed. Instead, you should start with small projects and use simple knots. For example, you can use simple cords to make the knots, and instead of trying to make a plant hanger in your first attempt, you should try to make a simple macramé project such as a friendship bracelet or a keychain.
You can make these items using this crafting technique, and when you can complete these simple projects successfully, you will feel encouraged and confident to tackle the more complex ones.
Common macramé supplies
When you start with your macramé project, you should gather your macramé supplies. Some of the items that you will need to begin your macramé project are as follows:
Macrame yarn 4mm thickness
Scissors
Dowel
Measuring tape
Hoops
Beads (depending on the project)
All of these are essential items necessary for simple macramé projects. You can purchase more supplies as you gain more expertise in the art form.
Types of Macrame Knots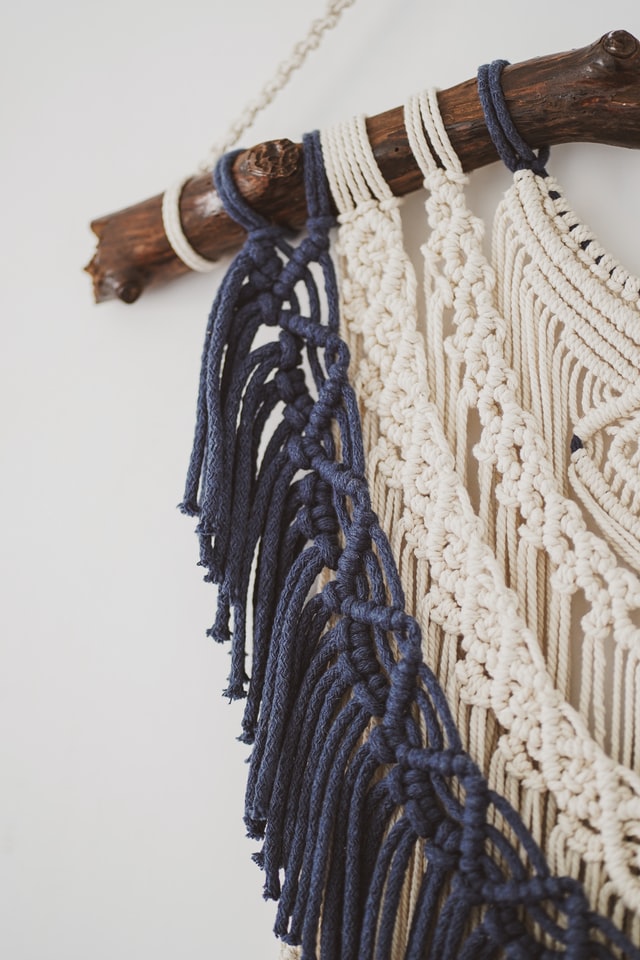 Square Knot consists of two flat knots tied in two different directions. The basic knots will have four ends, which will result in the square knot when brought together.
Hitches: This can be vertical, diagonal, or horizontal and consists of four flat knots. The left edge is pulled over the right to create the knot.
Vertical Hitch: These are ideal for making belts as these knots result in densely knotted weaving across the primary thread.
Frivolité or Lark's Head Knots: In these knots, the knots are made on the primary thread, in the form of loops on the thread.
Capuchin / Barrel Knot: The barrel knot is ideal to be used for the end of shawls and tassels as it gives it a neat look.
Long Barrel knot: These are long straight knots designed to give a decorative item a finished look.
Wind Knot: This is the macramé tassel knot that you will see at the end of decorative wall hangings like dream catchers.
The Clear Edge Method: If you do not want tassels at the end of your macramé, you need to have these knots.
The Connecting Knot: The knot connects two or more threads and creates a fishnet-like effect.
Half Knot Spiral: The half knot spiral combines half of a square knot. It is used to create hammocks and jewelry.
Half Hitch Spiral: This knot creates a series of knots around a primary thread. The result is several loops on a primary thread.
Berry Knot: By tying a square knot, Berry knots are created by bringing two filler cords and a single cord.
Barrel Knot: This knot is made by looping the string from the bottom and bringing it in from the top.
Wrapping Knot: This is a vintage knot seen in plant hangers designed to give the object strength.
Overhand Knot: It is the simplest knot used to tie a rope or a cord.
Constrictor Knot: In this knot, you need to take one end of the cord and wrap it across the dowel going from front to back.
Macrame Project Ideas
If you are thinking of starting some macramé projects, then check out some of the following:
Macrame Necklaces
Friendship bands
Small Christmas ornaments
Jar hangers
Feather earrings
Wall hanger
Layered wall hanger
Purse
Double-decker macramé planter
Mirror mandala
Product showcase
Common Questions about Macrame Art
Is macramé a craft or art?
Macrame is a craft of knotting a textile. However, when you learn all the knots and techniques, you are empowered to develop unique artistic pieces because of the different pattern formation and knotting styles.
What is the origin of macramé?
As we know it today, Macrame originated among the thirteenth-century Arab weavers. They started by knotting the excess materials or fringes on the veils and shawls they would weave.
What do you need for macramé?
You need some essential items for macramé: cotton cords, wood or metal dowel, scissors, and a measuring tape.
Does Macrame sell well?
Yes, macramé does sell well. You can start your online store or even start your own YouTube video about macramé. The products you make will sell well, as these make for unique decorative items with a ready market.
What is the best thickness for Macrame?
The best thickness for the cords used to make macramé should range from 4mm to 7mm. This is ideal for making plant hangers, wall hangings, lanterns, and rugs.
What is Macrame and its use in Home Décor? – Youtube Video
Ways to Learn Macrame with Paint Lab
Paint Lab is one of the best ways to learn macramé online as it has beginner's courses and workshops making it easy for you to choose a course that suits your requirements. The reasons why you should opt for Paint Lab macramé courses and workshops are as follows:
Macrame Workshops
In the Paint Lab macramé workshops, you will get to interact with an expert online who will teach you the intricacies of this art. After the ninety-minute live online workshop, you will find that you have successfully made a keychain using macramé. You will gain a thorough understanding of the art form, the techniques, and the cords simply after the ninety minutes session.
Macrame courses
When you have attended the workshop, you should consider enrolling yourself in a macramé course offered by Paint Lab. Here you will have a dedicated teacher who will support you and teach you the nuances of the art the different knots and help you become an expert. When you enroll for a course in Paint Lab, you can be assured of the following:
There are only ten students in a batch managed by an instructor, which means you can be assured that you will get personalized attention. In addition, the instructor will be invested in helping you learn the intricacies of the art of macramé.
You will get a total of sixteen hours of live learning sessions on the user-friendly and safe online platform.
You will get free recorded sessions that you can visit even three months after completing your course.
You will get complete support from your instructors even after your class is completed. In addition, you can clear any doubts that you have during these after-class chat sessions.
We also offer a unique peer-to-peer learning opportunity where you can interact with your fellow students on the same platform. You can discuss your performance, build your network, de-stress and rejuvenate. Peer-to-peer learning is an opportunity to learn the art and a chance to interact with other people who share similar interests.
If you plan to start your brand, we will provide you with selling support and guide you regarding brand building. In addition, we will help you regarding how you can leverage social media platforms to sell the products you make.
Our courses are designed to provide you with certification to give you the confidence and the expertise to start your macramé products store.
To ensure that all our clients are satisfied with our courses we also offer on hundred percent money-back guarantee. But we assure you that once you enroll in our course and the support you receive, you will be delighted with our support.
Therefore, instead of trying to teach yourself macramé with the help of YouTube videos which will result in you losing interest in the art, you should get in touch with Paint Lab experts. This will help you stay interested in macramé, and you will find learning macramé a joy.
Reference URLs
https://www.paintlab.co.in/workshop/macrame
https://www.thesprucecrafts.com/what-is-macrame-4770893
https://en.wikipedia.org/wiki/Macram%C3%A9
https://www.paintlab.co.in/courses/courses_detail/macrame